SOLD

/

19th C. French Oak Wine Tasting Table
SOLD

Back to SOLD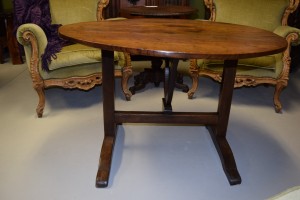 19th C. French Oak Wine Tasting Table
Sold
French Oak Wine Tasting Table originally used in old cellars where space was limited. These tables could be tilted and pushed up against the wall until it was time to bring out the wine for tasting. With a flip of the table top, it made the perfect size table for friends to enjoy wine together. Today it could also be used as a game or coffee table.
Product Number 249
Price: $1,980.00
Origin: France
Circa: Early 1800's
Condition Remarks: Good. Wear consistent with age.
Dimensions: H 28" W 43.25" D 37.25"


3867 East 12 North, Suite #3, Rigby, ID 83442 ~ Tel. (208) 557-3408 ~ Fax (208) 228-0314 ~ outoftheashes39@gmail.com