SOLD

/

19th C. French Renaissance Griffin Arm Chairs
SOLD

Back to SOLD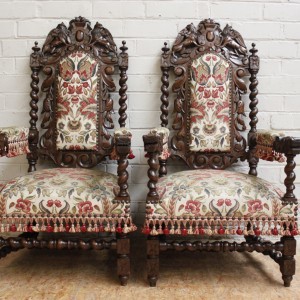 19th C. French Renaissance Griffin Arm Chairs
Sold
Stately French Renaissance Upholstered Arm Chairs have barley twist details with griffins carved at the top. These chairs add a regal look to any room.
Product Number 215
Price: $3,950.00
Origin: France
Circa: 1880-1890
Condition Remarks: Upholstery has some stains. Overall frame and condition is good.
Dimensions: H 51.5" W 26" D 24.5"


3867 East 12 North, Suite #3, Rigby, ID 83442 ~ Tel. (208) 557-3408 ~ Fax (208) 228-0314 ~ outoftheashes39@gmail.com