SOLD

/

19th C. Spin Top French Renaissance Game Table
SOLD

Back to SOLD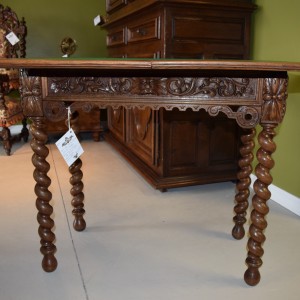 19th C. Spin Top French Renaissance Game Table
Sold
Spin Top Renaissance Game Table opens up to be the perfect card game table. Once opened, green felt lines the table top. Beautiful barley twist legs under the masterfully carved frieze featuring a lions head, complete this unique table. There is room to store cards or other items under the folded table top.
Product Number 261
Price: $1,675.00
Origin: France
Circa: 1800's
Condition Remarks: Good
Dimensions: H 31" W 35" D 17.25"


3867 East 12 North, Suite #3, Rigby, ID 83442 ~ Tel. (208) 557-3408 ~ Fax (208) 228-0314 ~ outoftheashes39@gmail.com