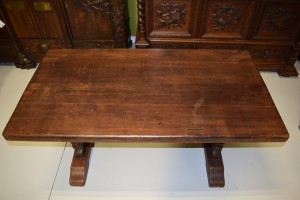 Rustic French Farm Table
Rustic French table is similar to many "Gasthaus" tables seen while traveling in Germany and Eastern France. This table is built with simple yet solid construction and will last for generations to come.
Product Number 235
Price: $2,295.00
Origin: France
Circa: 1920-1930
Condition Remarks: Good
Dimensions: H 29.5" W 59" D 31"


3867 East 12 North, Suite #3, Rigby, ID 83442 ~ Tel. (208) 557-3408 ~ Fax (208) 228-0314 ~ outoftheashes39@gmail.com