Louis XV Mahogany Salon Chairs
Back to CHAIRS/SEATING, VIEW ALL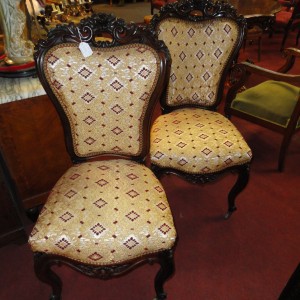 Louis XV Mahogany Salon Chairs
Pair of Louis XV Style Salon Chairs. Beautiful detail in the hand carved flowers. Elegant new Gold and Red upholstery on a mahogany frame with casters at the bottom of the cabriole legs.
Product Number 272
Price: $1,980.00
Origin: France
Circa: 1880-1890
Condition Remarks: Good condition, reupholstered
Dimensions: H 40" W 18.5" D 18.5"



3867 East 12 North, Suite #3, Rigby, ID 83442 ~ Tel. (208) 557-3408 ~ Fax (208) 228-0314 ~ outoftheashes39@gmail.com