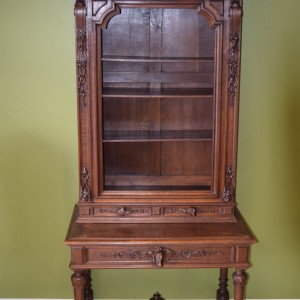 Hunt Style Bookcase
Hunt Style Bookcase in oak atop a writing desk make this original piece a unique addition to your home. It highlights dogs and hounds, a telling sign that the original commissioner or owner of the piece was a dog lover.
Product Number 238
Price: $2,595.00
Origin: France
Circa: 1860-1880
Condition Remarks: shows wear from use and age.
Dimensions: H 86.5" W 39.5" D 24.25"


3867 East 12 North, Suite #3, Rigby, ID 83442 ~ Tel. (208) 557-3408 ~ Fax (208) 228-0314 ~ outoftheashes39@gmail.com