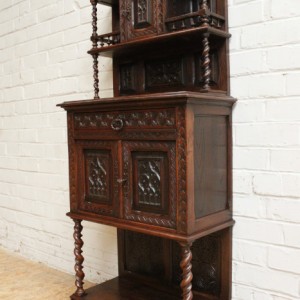 Gothic Entry Cabinet
Gothic entry cupboard with intricate carvings. A key unlocks both the top and bottom doors. Side shelves are a perfect place to display collectibles and the drawer is an ideal place to toss your keys.
Product Number 217
Price: $2,359.00
Origin: France
Circa: Late 1800's
Condition Remarks:
Dimensions: H 72" W 31" D 15.5"


3867 East 12 North, Suite #3, Rigby, ID 83442 ~ Tel. (208) 557-3408 ~ Fax (208) 228-0314 ~ outoftheashes39@gmail.com