French Renaissance 3 Door Bookcase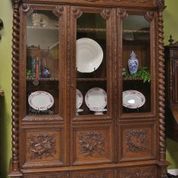 French Renaissance 3 Door Bookcase
French Renaissance 3 door bookcase in oak. This majestic and enchanting piece features barley twist columns, glass on the upper doors and the arts depicted in each door panel. There is plenty of room to store an expansive collection of books and display family heirlooms and photographs.
Product Number 277
Price: $8,750.00
Origin: France
Circa: 1870-1880
Condition Remarks: Good. Wear consistent with age.
Dimensions: H 98" W 73.5" D 23"


3867 East 12 North, Suite #3, Rigby, ID 83442 ~ Tel. (208) 557-3408 ~ Fax (208) 228-0314 ~ outoftheashes39@gmail.com