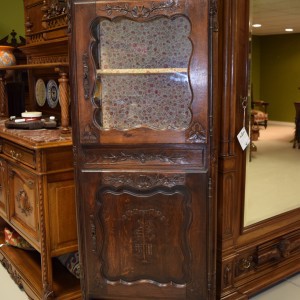 French Provencal Vitrine
French Provencal Vitrine used in the home to display family collections and heirlooms. This particular piece features a music and floral motif. The shelves and back on the upper portion of this piece are lined with fabric from Provence.
Product Number 253
Price: $2,850.00
Origin: France
Circa: 1880-1890
Condition Remarks: Good
Dimensions: H 73" W 24" D 16.5"


3867 East 12 North, Suite #3, Rigby, ID 83442 ~ Tel. (208) 557-3408 ~ Fax (208) 228-0314 ~ outoftheashes39@gmail.com