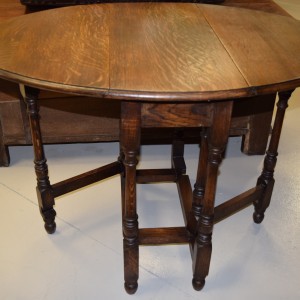 English Gateleg Table
19th C. English gateleg table. These tables are much sought after in the decorating world. They make the perfect end table. Each side folds out to make an oval table, or it can be left with one or both sides down to fit at the end of a hall, couch or chair.
Product Number 282
Price: $650.00
Origin: England
Circa: Early 1800's
Condition Remarks: Good
Dimensions: H 29.5" W 30" D 13.5"


3867 East 12 North, Suite #3, Rigby, ID 83442 ~ Tel. (208) 557-3408 ~ Fax (208) 228-0314 ~ outoftheashes39@gmail.com