SOLD

/

Antwerp Lion coat rack
SOLD

Back to SOLD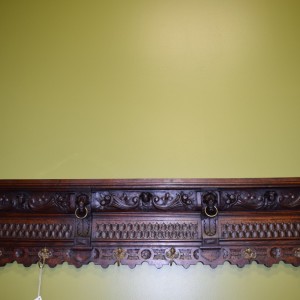 Antwerp Lion coat rack
Sold
19th C. Antwerp Lion coat rack or potrack. The lions on this exquisitely carved shelf are a style typically seen in Antwerp, Belgium. Carvings around the lions and 6 hooks with the face and wings of an angel give this hard to find shelf a majestic and grand look.
Product Number 283
Price: $1,575.00
Origin: Belgium
Circa: Early 1800's
Condition Remarks: Good
Dimensions: H 14" W 71" D 4.75"


3867 East 12 North, Suite #3, Rigby, ID 83442 ~ Tel. (208) 557-3408 ~ Fax (208) 228-0314 ~ outoftheashes39@gmail.com