SOLD

/

19th C. Oak coat rack
SOLD

Back to SOLD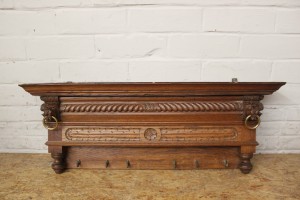 19th C. Oak coat rack
Sold
19th C. Oak coat rack or potholder features carved lion heads, 6 hooks and a shelf for displaying your favorite items.
Product Number 280
Price: $425.00
Origin: Belgium
Circa: 1800's
Condition Remarks: Has a few nicks on the front of the shelf. Otherwise in good condition.
Dimensions: H 14" W 39" D 7"


3867 East 12 North, Suite #3, Rigby, ID 83442 ~ Tel. (208) 557-3408 ~ Fax (208) 228-0314 ~ outoftheashes39@gmail.com