19th C Hunt Style Renaissance Armoire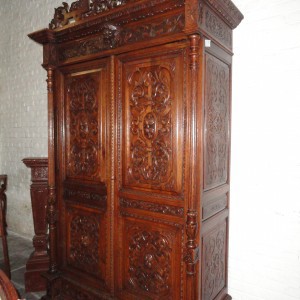 19th C Hunt Style Renaissance Armoire
Hunt Style Renaissance Armoire with exquisite carvings on the front and sides. The most striking carving is the deer at the top with a cougar's face carved as the drawer pull out.
Product Number 274
Price: $6,595.00
Origin: France
Circa: 1880-1890
Condition Remarks: Good
Dimensions: H 108" W 58.5" D 25.5"


3867 East 12 North, Suite #3, Rigby, ID 83442 ~ Tel. (208) 557-3408 ~ Fax (208) 228-0314 ~ outoftheashes39@gmail.com