18th C Deux Corp Chapeau de Gendarme
Back to SIDEBOARDS/BUFFETS, VIEW ALL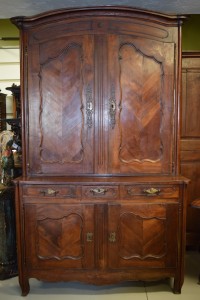 18th C Deux Corp Chapeau de Gendarme
18th C Deux Corp Chapeau de Gendarme: Deux Corp in the antique world basically means a cupboard on top of a cabinet with the top having less depth than the bottom. This cabinet also has the "Chapeau de Gendarme" on top which roughly translates into the hat of a military calvaryman in historical times. This beautiful piece has been whitewashed inside the top portion of the cupboard. This would be an ideal piece to leave open to display your prized pottery or ceramics. It is equally as impressive when the top half is closed. A stately, commanding piece, this one will surely draw attention wherever it is place.
Product Number 236
Price: $7,750.00
Origin: France
Circa: 1700's
Condition Remarks: overall good, with normal wear with use and age.
Dimensions: H 94" W 58" D 26.5"


3867 East 12 North, Suite #3, Rigby, ID 83442 ~ Tel. (208) 557-3408 ~ Fax (208) 228-0314 ~ outoftheashes39@gmail.com