SOLD

/

18th C Cabinet from Belgian Castle
SOLD

Back to SOLD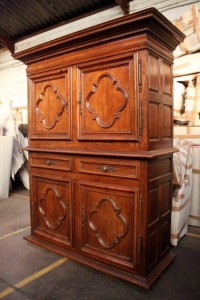 18th C Cabinet from Belgian Castle
Sold
18th C Cupboard from a castle in Belgium. Paperwork shows it was made in France before finding it's home in a Chateau in Belgium. Features 4 doors with felt lined shelves inside and 2 drawers. This simple but beautifully designed cupboard would have been used to store linens for the castle inhabitants and guests.
Product Number 279
Price: $10,250.00
Origin: France
Circa: 1700's
Condition Remarks: Excellent condition for age.
Dimensions: H 81.5" W 64.5" D 26"


3867 East 12 North, Suite #3, Rigby, ID 83442 ~ Tel. (208) 557-3408 ~ Fax (208) 228-0314 ~ outoftheashes39@gmail.com